Equity audit highlights student disparities in Cy-Fair ISD, board split in response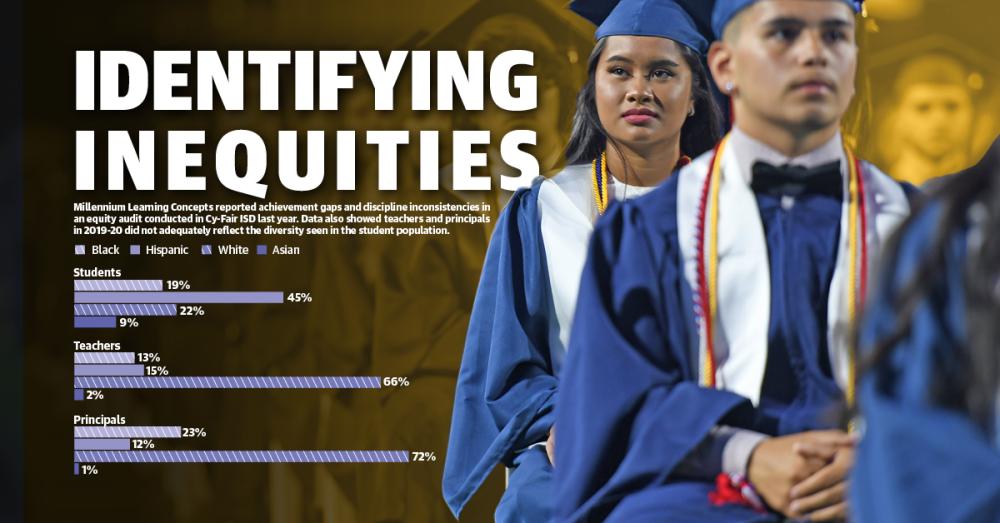 An equity and culture audit conducted at Cy-Fair ISD last year revealed district-wide gaps in academics, discipline and representation among staff. School board members are divided on the district's efforts to become more equitable and the need for the audit.

Administrator Julie Hinaman said the audit results may have been uncomfortable, but the goal was to learn how the district could improve.

"We are very fortunate at Cy-Fair ISD to be a successful, highly efficient, and fiscally responsible model of a school district in Texas, but we are not happy with that. … The goal of the equity audit was to find out where those places are that we can improve to better serve all of our children," she said during a January 10 working session.
Hinaman helped draft the resolution condemning racism that the school board unanimously signed in September 2020, which called for an equity audit to help the board close opportunity and achievement gaps between different groups of students.
CFISD spent $75,000 to hire Millennium Learning Concepts, a Kentucky-based education consulting firm, to conduct the audit, which found black, Hispanic, and economically disadvantaged students lagged behind their peers. academically and that black students were disproportionately disciplined at CFISD. Another deficiency identified by the audit related to the diversity of staffing.
"MLC emphasized that the diversity of CFISD's student body is not represented by the demographic makeup of CFISD's professional staff and management," said Onica Mayers, CFISD's director of employee relations and professional staff. "Hispanic or Latino students and Asian students don't see CFISD teachers and leaders who look like them and share their cultural backgrounds."
The three new directors elected in November – Natalie Blasingame, Scott Henry and Lucas Scanlon – expressed disappointment in both the resolution and the equity audit. The resolution was reworked with their input in January.
Meanwhile, Cy-Fair residents and elected officials have called for the resignation of Scott Henry over comments he made about black teachers in his second month in office. During the January 10 business session, he called the audit a "heap of garbage" and a "heap of junk" and said he didn't want CFISD to be like Houston ISD, which, he noted, has a higher dropout rate and percentage of blacks. teachers.
Video clips of his comments were shared thousands of times on social media, and the trustee lost his job with California-based IT company Splunk as a result, according to a January 14 tweet from the company.
"The statewide average for black teachers is 10%. Houston ISD – that you all used [as] a shining example – do you know what their average percentage of black teachers is? Thirty-six percent. I watched this. Do you know their dropout rate? Four percent. I don't want to be at 4%. I don't want to be HISD," Scott Henry said. "I want to be a shining example. I want to be the district standard. I want to be the place, the privileged place where people are going to be.
Although the board considered the recommendations made by the MLC, the directors took no immediate action in response to the audit.
A diverse neighborhood
Thousands of students and staff have responded to surveys or participated in small group interviews to give MLC a better understanding of school culture and existing fair practices at CFISD.
MLC Founder and President Roger Cleveland defines educational equity as "the provision of personalized resources, instruction, and academic support needed by all to achieve common goals."
The MLC reported achievement gaps between racial and ethnic groups. Overall, white students outperformed their black and Hispanic peers on standardized tests and graduated at higher rates.
The company cited studies from Johns Hopkins University in 2015 and American University in 2017 on exposure to same-race teachers that showed students perform better academically and tend to be less suspended when they have teachers of the same racial background. But most CFISD students don't have that experience.
As the population of Cy-Fair grows, the CFISD has diversified. In 2003-04, 52% of students and 85% of teachers were white. In 2019-20, students and teachers were 22% and 66% white, respectively, according to the Texas Education Agency.
However, the CFISD has made progress towards more balanced ratios. The district gained a net number of 96 black teachers and 145 Hispanic teachers between 2019-20 and 2020-21, while the number of white teachers remained stable, according to the TEA.
Ryan Irving graduated from Langham Creek High School in 2016 and said he remembers having two black teachers throughout his K-12 schooling in the district.
"It was something that I personally needed, especially as a third grader walking into a classroom and seeing… someone who looks like me, someone who talks like me, who is also good educated, who understood my background and my issues," said Irving, who ran against Scott Henry in November and is now president of the Cy-Fair Civic Alliance. "Honestly, it made me very optimistic in as a young child just by having that example, and I am now still friends with that teacher to this day."
Carlecia Wright, diversity manager at the Lone Star College System, said organizations should hire racially diverse staff, but that's not the only factor that contributes to student success.
"The key is that organizations need to be intentional in their recruitment strategy, but they also need to ensure that their staff…are also equipped with a culturally relevant curriculum and understand the lived experience of its student population and that they are equipped with awareness and strategies to mitigate their biases," she said.
Many public commentators at the January 13 board meeting said they supported the original board resolution and the need for the audit. Odus Evbagharu, a CFISD graduate and chairman of the Harris County Democratic Party, pointed out that Cy-Fair High School was once segregated and many in the room were old enough to remember the civil rights movement of the 1960s. .
Other community members, including Scott Henry in a statement, said they want to see the district "get back to the basics" of education and avoid politics.
"To be honest, I'm more concerned about my kids' grades than the race of the person teaching them," said Todd LeCompte, a CFISD dad who ran unsuccessfully for the board last fall. "It seems like a lot of these talking points in the school district are more about running these days than about performance. Politics has seeped into this school district.
Room for improvement
District leaders acknowledged the disparities between white students and students of color based on the audit, which highlighted clear learning gaps. About 88% of white students met or exceeded their math goals in 2021, compared to 60% and 68% of black and Hispanic students, respectively.
Additionally, nearly 40% of all suspensions in 2020-21 were for black students, while 19% of the student population was black, according to the TEA.
"Similar to the Success Models, this Discipline Model is a district-wide concern, consistent across CFISD, and has profound implications for student learning and academic achievement," Mayers said.
Some district staff interviewed for the audit acknowledged that the focus on equity was slowly being implemented and that some progress had already been made. Others called for more meaningful professional development around diversity, equity and inclusion.
MLC recommendations for the district included working with various stakeholders to develop an equity plan; launch an equity scorecard and/or equity scorecard system; creating a position to support the district's commitment to equity; creation of a central management of actions; establish an equity advisory committee; and developing and approving a formal equity policy.
Next steps
Hinaman said the board won't necessarily take action on every recommendation, but said the data confirms the existence of unintended biases, achievement gaps and inconsistencies in discipline.
District officials did not have a concrete plan or timeline for next steps at press time. Leslie Francis, assistant superintendent for communications and community relations, said the board could add goals or targets to its board oversight system; management could recommend next steps to the board; or both or neither could take place.
In addition to the recommendations, the MLC commended the CFISD for the equity efforts already in place, such as investments to provide technology and meals to students during the pandemic; support for English language learners; some professional development on diversity and equity; and the board resolution condemning racism. However, council members decided in January to "hold" the original resolution and draft a new version due to concerns expressed by new council members.
"When we reevaluate this resolution, … we don't need to belittle white people for being white and say you have systemic racism. I fundamentally disagree with that statement," Scanlon said. "I think if we're going to help our kids, then I think it comes down to creating the right work culture in the classroom and enabling and holding our kids accountable and giving that back to them."
Superintendent Mark Henry closed the Jan. 13 meeting with an emotional apology to his black employees for any hurt they may have felt after the work session earlier this week. He shared a personal testimony from his own family to explain the importance of a diverse workforce.
He said the Hispanic, Asian, white, black and LGBTQ communities are all represented among his children and grandchildren, and he wants them to see people who look like them.
"We want the best teachers we can find in this community, but we want them to be diverse," he said. "The way you create a diverse workforce is that you go looking for different places than you've ever looked before."