Familiar face, new role at St. Agnes | Herald Community Newspapers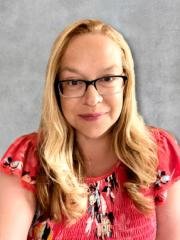 By Tom Carrozza [email protected]
After more than a decade at St. Agnes Cathedral School in Rockville Center, Mary Brower took on a new challenge this school year as a vice-principal. Last week, Brower reflected on her experience in teaching and administration, and how she and the school have adjusted during the pandemic.
Brower, 41, was inspired to pursue a career in education by observing her mother, Patricia Owczarek, who taught in St. Ann's, Garden City, for over 30 years. It wasn't her initial plan – she wanted to be a physical therapist – but, she recalls, sitting in her mother's class with her on days off led to a change of heart. She graduated from Manhattan College with a degree in elementary education in 2002, and received a master's degree from Hofstra the following year.
Brower began her career as a teacher assistant and substitute at Hewitt Elementary School in Rockville Center before becoming a computer teacher at St. Agnes in 2006. She spent a decade in this role, witnessing a technological leap in where the school has gone from bulky Mac computers to individual iPads. This transition has been particularly important in giving students the remote option during the pandemic, as iPads have helped students access improved textbooks and lesson plans from teachers.
In 2016, Brower took on an administrative role and held the position of Technology Coordinator until the start of this school year. "Learning about the culture and the community for 16 years, and being able to see it from different angles, really helped the transition to Deputy Director," she said. She cherishes the atmosphere of a religious school, she said, recalling the students' faces light up as they discussed their Catholic faith.
"I bring my faith to the decisions I make on a daily basis," Brower said. "And with my family and my 9-year-old daughter Emma at home, we talk about Jesus and God and how their philosophy informs every decision you make." Being able to talk about religion has been especially helpful in difficult times like these, she said, when faith brings hope despite the chaos of the world today.
The new deputy director said her long experience at St. Agnes has made her new role a little easier during the pandemic. A phone call goes a long way, Brower said, in keeping parents up to date with school procedures.
When presented with her new title at the school's open house in November, Brower recounted, she couldn't hold back a few tears of joy. "I got very emotional because it was really obvious that this was where I wanted to be," she said. "Being in front of the whole community was like being at home." She had worked hard, encouraged by Principal Cecilia St. John, in continuing the work of Deputy Principal, and obtained an Advanced Certificate in School Leadership from Molloy College in 2020.
"The heart, soul, love and faith she brings to St. Agnes has been wonderful," Brower said of St. John. "She's been my rock here, and that's why I started to pursue my studies in business."