IST and Scottish Green Legacy on Israel-Palestine Educational Resource – Bella Caledonia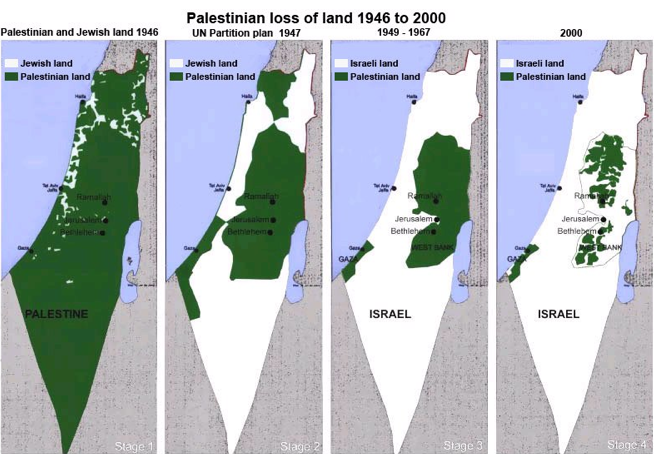 EIS and the Scottish Green Party embrace John Swinney's educational legacy on the Israel-Palestine educational resource.
Following the recently announced announcement of the Scottish Greens Party's cooperation agreement with the Scottish Government, they released their draft shared policy agenda which outlines a visionary aspiration on key principles, including human rights. man and educational reform:
"… Where everyone's contribution is heard and valued and where improving outcomes for children and youth is at the heart of everything we do… [and] to support a constructive and progressive discussion and debate on education issues in the Scottish Parliament and in society at large "
But there was one exception to this admirable statement which both sides ignored and which the Scottish teachers' union, the Educational Institute of Scotland (EIS) withheld; the Palestine and Israel, Understanding the conflict educational resource.
In 2015, a school in North Lanarkshire gave students a homework exercise that consisted of various questions about why Palestinians are "terrorists". This was the reaction of parents, the Scottish Palestinian community and national media coverage, then Learning and Science Minister Dr Alasdair Allan commissioned the Glasgow and Clyde Rights-Based Learning Group (GCRBL) to formulate a more balanced educational resource.
The GCRBL, with support from Education Scotland, invited various stakeholder groups to play an advisory role in the development of the resource including education professionals (including Education Scotland); parents and students; groups from Palestinian and Jewish communities and pro-Palestinian and pro-Israel organizations.
While most stakeholders, including the Scottish Jews for a Just Peace, have recommended changes to the resource, they have advocated for its implementation on Education Scotland's GLOW website. This was done in February 2017 after being assured of quality and was then accessible to teachers.
In May 2017, Education Scotland documented the response of the Scottish Council of Jewish Communities (SCoJeC) which, along with the Scottish Friends of Israel, were the only actors totally opposed to this.
Among the reasons for their opposition was the fear of anti-Semitism generated in schools; a bias towards the Palestinian perspective and a belief that sources such as the UN were "unreliable". They rejected the advisability of recommending additions / amendments to the resource that would reflect their own narrative and instead pursued a more lobbying tactic when John Swinney became Secretary of Education in 2016.
Its first task was to task Education Scotland with establishing a review group made up of the Scottish Commissioner for Children and Youth, teachers' unions, local authorities and chaired by Vicky McGraw of the GCRBL. Its function was to review the material project and organize a pilot project in a number of selected schools.
However, the review group was quickly halted after Education Scotland, without informing stakeholders, pulled the resource from GLOW.
Alarmed by this unexplained action and the lack of transparency, one of the stakeholders, the Scottish Friends of Palestine, embarked on a series of FOI requests which revealed that the content of the resource had been removed after Swinney had met pro-Israel groups.
Having met Swinney at an SNP conference, I asked him to explain the future of the resource and received a misleading response asking if I was "on the Jewish or Palestinian side?"
The resource was ultimately scrapped when Education Scotland CEO Gayle Gorman announced it would no longer be developed. Again, I managed to catch up with Swinney and asked him, how would teachers now answer students' questions on this issue? He said: "There are many resources available for a teacher to properly construct an explanation of the Israeli / Palestinian situation… I cannot believe that a teacher is just waiting for Education Scotland to produce a resource pack if that is necessary. 'helps explain the situation'.
This response denied why a resource was needed in the North Lanarkshire school in the first place and contradicted the earlier decision made by Dr Alasdair Allan MSP as well as the work of Education Scotland since June 2015. After nearly four years, Swinney has come full circle.
However, Swinney's decision was mixed when the EIS took unprecedented step by offering and agreeing to appropriate an educational resource from the Scottish government. What was ostensibly a rescue and educational promotion has turned out to be relegation to near-oblivion, as the resource is now buried on the EIS website. EIS informed me that it did not intend to apply for reinstatement on GLOW.
Interestingly, this deal came at the height of salary negotiations with Swinney.
This controversy added to Swinney's litany of school failures, which resulted in a vote of no confidence in Holyrood last year. During the debate, Scottish Greens for Education spokesman Ross Greer MSP defended Swinney and accused opponents of "hypocrisy". However, a year later, Nicola Sturgeon added to this loss of confidence when she demoted Swinney away from education.
Given that Greer was the chairman of the all-party group on Palestine, it was hypocritical that he and the Greens refused to take a golden opportunity to demand from Swinney the reinstatement of the educational resource before voting. As a constituent of Ross Greer, I wrote to him asking for an explanation. Despite the reminders, he refused to answer. When I complained to Speaker of Parliament Ken Macintosh I was informed that PSMs are not obligated to respond, "political" questions from voters.
The current coalition agreement between the Scottish Greens and the Scottish government has once again ignored the issue.
Outgoing Education Secretary Shirley-Anne Somerville reiterated that objective research on historical issues can be overruled by individual stakeholders, "Significant efforts to facilitate the development of a set of resources on understanding the conflict in Israel and Palestine that could be accepted by all key stakeholders were undertaken and, unfortunately, it was not possible to research full agreement on content. It was decided that hosting the material on GLOW under these circumstances would be inappropriate.
The decision to withdraw the resource was not based on educational but political criteria. Will education in Scotland have to go through political lobbying before it achieves legitimacy and acceptance? This is why an objective approach is crucial and if we don't have one, teachers will inevitably be forced to search the internet and get them back into the North Lanarkshire school mess.
The issue is still relevant as the Scottish Parliament is currently considering a petition for the resource to be restored.
The history of the Israeli-Palestinian conflict dates back over 100 years and is as controversial as it was then today. Britain was fundamentally responsible for this ongoing disaster and in particular the protagonist, a Scotsman by the name of Arthur James Balfour.
Scottish students should know this.