No end of year exams for public school students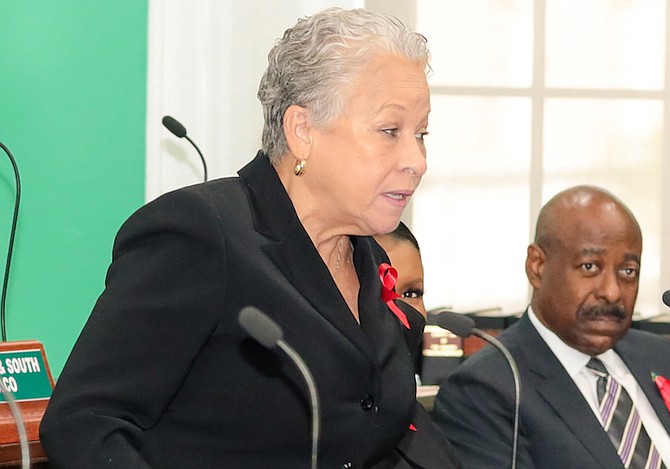 GLENYS Hanna Martin in the House of Assembly.
By RASHAD ROLLE
Principal journalist of the Tribune
THE Ministry of Education, Technical and Vocational Training said over the weekend that end-of-year exams would not be held for public school students this semester, a continuation of the policy that began the last year.
Education Minister Glenys Hanna Martin told The Tribune: "The (consensus) was achieved by the ministry, district superintendents, teacher representative bodies and the principals union. They were all in it and there was absolute consensus. It was not a unilateral decision. It has been a very disturbing time. A significant number of children have not been online at all.
"They're going to do primary and secondary school assessments, especially those who are graduating or going to college. There will be evaluations, so there is no loss of that. It is simply a matter of using another mode of performance evaluation. It is not a shortcut and it is not a deprivation, it is just a change of strategy in the evaluation.
Ms. Hanna Martin pointed out that the major impact of the COVID-19 pandemic has had on students' ability to learn.
"We can't walk around without knowing what's going on," she said. "This is a global phenomenon, millions of children have not been to school. In this country, the numbers are huge. We are in crisis. We had a huge learning loss. For thousands of children, two years have been lost.
Ms Hanna Martin said officials were also in the process of establishing a testing protocol for all grade levels to "determine the learning loss of each particular child and then implement remedial strategies."
She said: "It can be very important in some cases, not so important in others. And then, you know, the question is whether we're going to focus just on the basics at the start, literacy and numeracy. And then the other problem is the kids who graduated and didn't go to school. Now we need to identify each child through their parent's awareness and then see how we can integrate them with other programs, training agencies, BTVI, extension of adult learning to ensure that no child is left behind. for account. "
In a statement on Saturday, the ministry said Friday would be the last day for public school students for the end of the Christmas term. National Report Card Day, originally scheduled for Thursday, December 16, has been postponed.
The last working day for teachers in the Christmas term will be December 17, with layoff at noon. Teachers will return to work on Tuesday January 4, 2022.
"It is expected that students will engage in blended learning from Tuesday, January 11, 2022, subject to the approval of the Department of Health and Wellness," said the statement from the department.
"Additional details regarding student engagement in blended learning, the conduct of student assessment and new dates for National Report Card Day will be provided at a later date. "