Q&A from an eLearning Thought Leader: Talking Company Culture, Employee Development and Lifelong Learning with Christopher Pappas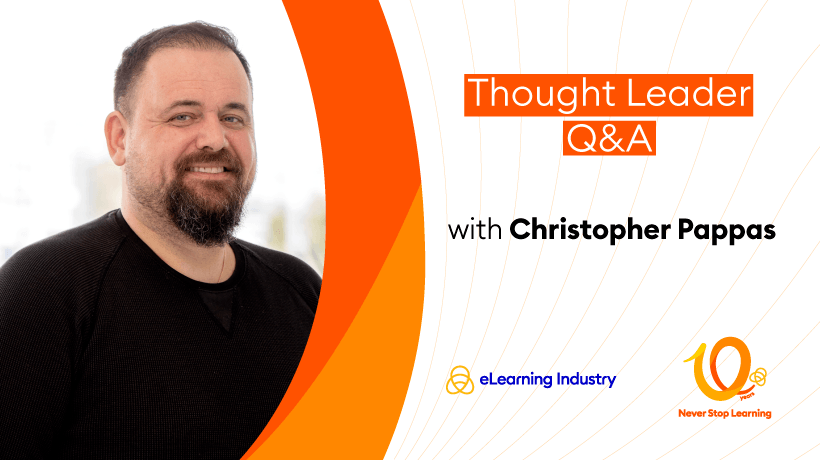 Celebrating our 10th anniversary with the founder of the eLearning industry
To mark our 10th anniversary, we sit down to speak with Christopher Pappas, the founder of eLearning Industry Inc. Christopher holds an MBA and an M.Ed (Learning Design) from BGSU, and is a proud advocate for the lifelong learning with an insatiable thirst for knowledge. Today, he shares his thoughts on building culture, core employee skills, and the future of the eLearning industry.
How did the idea for eLI come about and how do you think it helped change the industry, especially when it comes to building an eLearning community?
My project was to create an online community that would provide an open space for professionals to share their views. I had a bachelor's degree in music and two postgraduate degrees in the United States, one in business administration and the second in educational technologies and how they are applied to online education. Creating eLearning Industry gave me the opportunity to combine my passions and, to my surprise, nothing like this had been done before.
It was obvious that we had to create something niche, where talking about innovative strategies and trends would be free. Where every professional would have the opportunity to further strengthen the community, but also to learn more and continually evolve. What sets eLearning Industry apart is that we provide a place where professionals in the eLearning field can express their views and freely share their concerns, but they can also share theories on educational issues that affect them. Other online publishers pay journalists and professionals to write an article that may simply promote a product, or charge anyone who wants to write something on their site. We, focusing on the basic principle of eLearning democratization, provide an opportunity for eLearning professionals to write articles for free.
In addition to offering free knowledge to the eLearning community, our company also offers marketing services to companies in the industry to help them promote their products and services to eLearning and HR professionals. Our main customers are in the United States, Canada, Australia and Europe. It also helps a lot that we appear on the first pages of Google. Our organic traffic was almost 82% for 2021. This means that someone interested in a particular eLearning topic is very likely to find us through search engines.
What do you think is the characteristic that you consider most necessary in a work environment, and what do you think are the most important skills of an employee?
For me, the two main characteristics are having a positive mood and a thirst for learning. The first helps us to be optimistic on a daily basis so that we welcome new challenges as learning opportunities. This brings us to the second feature. We are always looking for the best, personally and professionally. Growth and development drive us forward at all levels. However, you have to really want it and give it your all.
When it comes to essential skills, the most important is probably not a skill in the usual sense. It's more of a behavior and a way of approaching life as a whole. That's passion! I have done over 300 interviews and what I usually look for is 40% passion for the tasks they will be asked to do, 40% personality and only 20% skills. We want every member of our team to participate in a project and be truly happy while working on it. It is also important that each employee knows their strengths and weaknesses so that they can continuously develop with our help. Skills are built, but you need to have a solid foundation in behavior in order to reach your full potential and contribute to the culture of the company.
What impact do you think the global pandemic has had on the training and development industry?
After March 2020, there was a huge spike. Within months, our traffic grew to over a million users per month. People started looking for e-learning, virtual training, distance solutions, and blended learning. Thus, eLearning Industry has become the world's leading website for finding information on key issues, such as the pros and cons of eLearning. What we have noticed is that more and more companies are trying to strengthen their workforce with more skills, but also want to improve their own corporate culture. We have found that it all starts with the right training initiatives and what you offer your employees. It's no coincidence that the e-learning market is predicted to reach $325 billion in 2025. Now everything can be done online, which means flexibility and lower costs for everyone. .
eLI was recently awarded Best Workplace Hellas for 2022. Can you share some tips on how to create a successful company culture?
The Best Workplace Hellas award for 2022 belongs to our people. Without its team members, eLearning Industry would not have the same identity. They deserved it and more. Winning such an award raises the bar for everyone. This means that every year we aim to surpass ourselves and become even better. We welcome challenges and already have many plans to further improve our corporate culture.
One of the biggest challenges we faced was dedicating ourselves to the corporate culture of the eLearning industry. We had to live his values ​​and weave them into the fabric of our business. This was a very important element of success for all members of the team. Adapting to our new vision took a lot of work (over a period of two years). The company may be customer-centric, but at the same time, we believe that happy employees mean happy customers. If customers aren't happy, it's usually because employees aren't happy. Everything is reflected. Thus, our main objective is that each employee comes to work with joy, does what he likes, can improve and evolve. That's the big bet. Otherwise, business growth is a wasted victory.
Speaking from personal experience, I can tell you that the company is its employees. You need to give team members the opportunity to attend training for something that interests them. Often the courses are aimed at improving their professional skills, but they can also focus on behaviors, leadership skills, creativity or psychology. At eLI, we listen to our employees and try to help as much as possible to offer flexible solutions to facilitate their work. We also often organize workshops and events to improve team cohesion and collaboration between team members.
Can you give any advice to the younger generation looking for a job in the digital world?
Today things have changed and the digital world offers many other opportunities for vocational rehabilitation. When someone is looking for a job, it is a good idea to do so through a trusted site, and even before sending the CV, to research the background of each company. Just as companies choose their employees, employees choose companies. It's a two-way relationship and to work properly there needs to be alignment and solidarity. For example, you may go to a company for an interview and something may make you feel uneasy, or it may seem that the staff are unhappy. So, do your homework and read the piece before deciding to join a corporate environment. The good thing is that many companies are offering remote work opportunities or have adopted a hybrid working model. Anyway, with new technologies, things can only get better. My hope is that everyone succeeds in finding the job they deserve and is well paid to do it.
What future for the eLearning industry?
The eLearning industry is celebrating its 10th anniversary. As for the children of a family, this is where adolescence begins. As a proud parent, I would love to see eLI evolve and spread its wings. As a first company, it is also the first great experience, both for me and for the team. I would like eLearning Industry to be an example for others and to be able to reach the highest bar. We already have a lot of ideas for new spin-off companies. Gradually, we will need new people to help us succeed in creating modern work environments where employees are happy to bring their ideas to life with decent wages and benefits. There is already a plan to expand our ideology into online marketing, software development and innovative SaaS (Software as a Service). My dream is to see the eLearning industry transmit its values ​​and corporate culture.
Wrap
A very special thank you to Christopher for sharing his unique thought and vision with us. We invite you to check out the thousands of articles and countless e-books he has published on our platform over the years. Last but not least, we would like to express our gratitude to him for being such an inspiring and encouraging leader. Without wanting to be too sappy, Christopher provides a daily example of our cultural values ​​in action and what it means to be a team player.
Stay connected with us on social media platform for instant update, click here to join our Jwitter& Facebook