The 2nd professor of Laval University suspended for having questioned the need to vaccinate children against COVID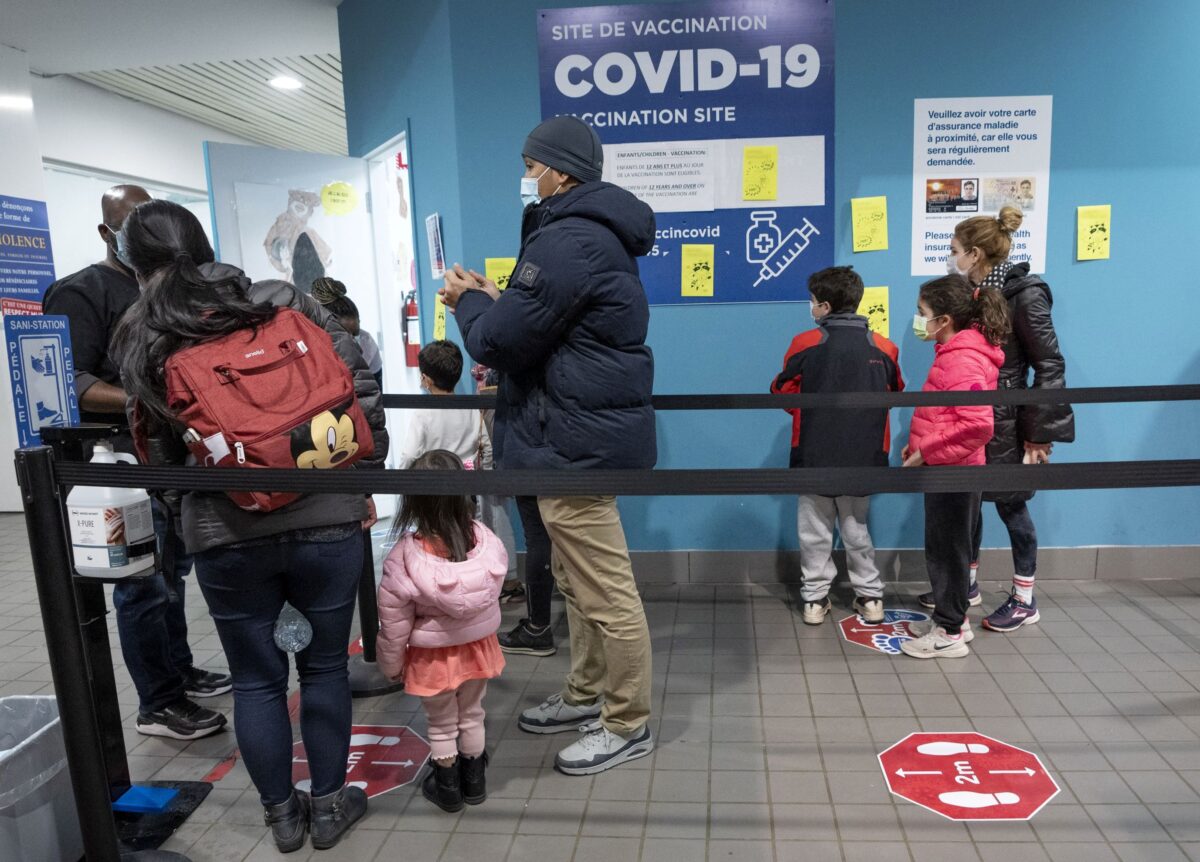 A second professor from Laval University in Quebec has been suspended for questioning the need to vaccinate children against COVID-19.
Nicolas Derome, professor of molecular biology, was suspended for the same reason and in the same circumstances as his colleague Patrick Provost, professor of microbiology, infectiology and immunology.
Both Derome and Provost took part in the activities organized by Réinfo COVID, which describes itself as a collective of nurses, doctors, scientists and citizens seeking to spark a debate on the way the pandemic has been handled by the government.
Derome gave an online presentation hosted by the collective in late November 2021, in which he said children were not at high risk for complications from COVID-19.
He said there had been "zero" severe cases among the 0-17 age group, with or without comorbidity, his presentation slide indicating that the data came from the Institute of Public Health of the Quebec (INSPQ) and expertise.
A review of the INSPQ Data for the first four waves, covering February 23, 2020 to December 4, 2021, reveals that there were 73 intensive care admissions for people aged 0 to 19. The data does not indicate whether admissions were "due to COVID" or "with COVID."
Derome also said that children aged 1 to 14 were 15 times more likely to die from a traffic accident than from COVID, and noted that there were no deaths for those aged 5 to 19. .
"This information is very important to have in order to make a free and informed choice regarding this vaccination campaign for children aged 5 to 11," he said at the start of his presentation.
A current review of data from the first four waves shows that one death occurred in the 10-19 age group during the third wave. A separate INSPQ chart examined on deaths and the presence of comorbidities shows no deaths reported for the 19 and under category with the mention that percentages are not reported when the total number is less than 5.
Derome said, citing published literature, that children have a better innate response to defend themselves against COVID, which is why they suffer less severe outcomes.
The professor also cited UNICEF, the United Nations children's agency, which said back when the World Health Organization (WHO) did not recommend COVID vaccines for children, due to lack of trials and little to no safety data for this age group.
Since then, WHO has said that the Pfizer vaccine can be safely given to children from the age of 5 and that Pfizer and Moderna are authorized for use in children over the age of 12.
The professor also raised the issue of the diminishing effectiveness of vaccines — not only against infections, but also against hospitalizations — quoting White House COVID adviser Anthony Fauci.
Derome made his presentation when Quebec had just launched its vaccination campaign for 5 to 11 year olds.
Derome was contacted by The Epoch Times but was unavailable for comment.
Laval University said when contacted it would not comment on the "personal situation of its employees."
At the time of posting the Derome video, Laval spokeswoman Andrée-Anne Stewart Told Radio-Canada that his remarks "in no way reflect the position of Laval University and its faculty of science and engineering in the face of the health crisis".
"Like all members of the teaching staff, Professor Derome is held to the full rigor and scientific integrity required by this function," said Stewart.
"Slip into dictatorship"
On December 7, 2021, Derome's colleague, Patrick Provost, said in a scientific conference sign organized by Réinfo COVID that, according to provincial data, there is a greater risk of hospitalization for children because of vaccines than because of COVID-19 itself, in addition to not having a portrait of medium and long term side effects.
Provost was suspended for eight weeks without pay in mid-June for his remarks. It is likely that Derome received a similar penalty.
Réinfo COVID published a letter on his website presumably of Provost asking, on behalf of Université Laval, that the video of the panel he participated in be taken down or he could face further sanctions, including dismissal.
The collective refused, citing the need for the public to be aware of "the usefulness, effectiveness, risks and ethics of childhood vaccination".
Réinfo said he would try to help professors, noting: "If universities gag their professors, as different professional orders do, we are sliding towards dictatorship."
Academic freedom
The suspensions of Derome and Provost have fueled debate over academic freedom in Quebec, which last month passed legislation to protect it.
"These situations at Laval University confirm that it was necessary to legislate on this issue and the law stipulates that each university must, within one year, draft a policy and set up a committee to monitor the application. policy and review related complaints. to academic freedom in universities," Higher Education Minister Daniell McCann said in a statement to The Epoch Times.
"The law also emphasizes that academic freedom must be practiced in accordance with standards of scientific rigor."
The professors have the support of their union, which has filed a grievance, and of the largest labor federation to which it is affiliated.
"Regardless of what one may think of the comments or statements of a colleague, university officials have no legitimacy to intervene on the content of the comments made by these colleagues", explains a E-mail sent by the Laval Teachers' Union (SPUL) to its members.
"The management of Laval University has made a bad choice and is undermining the principles guaranteeing the functioning of the University and academic freedom", declared the president of the SPUL, Louis-Philippe Lampron. Tweeter.
The Epoch Times contacted SPUL but did not hear back at the time of publication.
A provincial union federation of university professors to which the SPUL is attached, the FQPPU, declared that the suspension of the two professors was all the more "serious and surprising" as it came after the adoption by the province of academic freedom law.
"Compliance with the consensus of a scientific community is not in itself a sufficiently precise standard to justify a disciplinary sanction against a professor who exercises his academic freedom", declared the FQPPU in a press release. statement.
He stated that it is the duty of colleagues and other scholars to refute or point out weaknesses in the remarks or work presented.
"In an institution that respects academic freedom, it is by refutation that professors and other stakeholders in teaching and research must reject statements that depart from knowledge validated by proven methods.