AMOpportunities Tackles Looming Physician Shortage by Expanding Mission to Help Hospitals Build Their Clinical Education Capabilities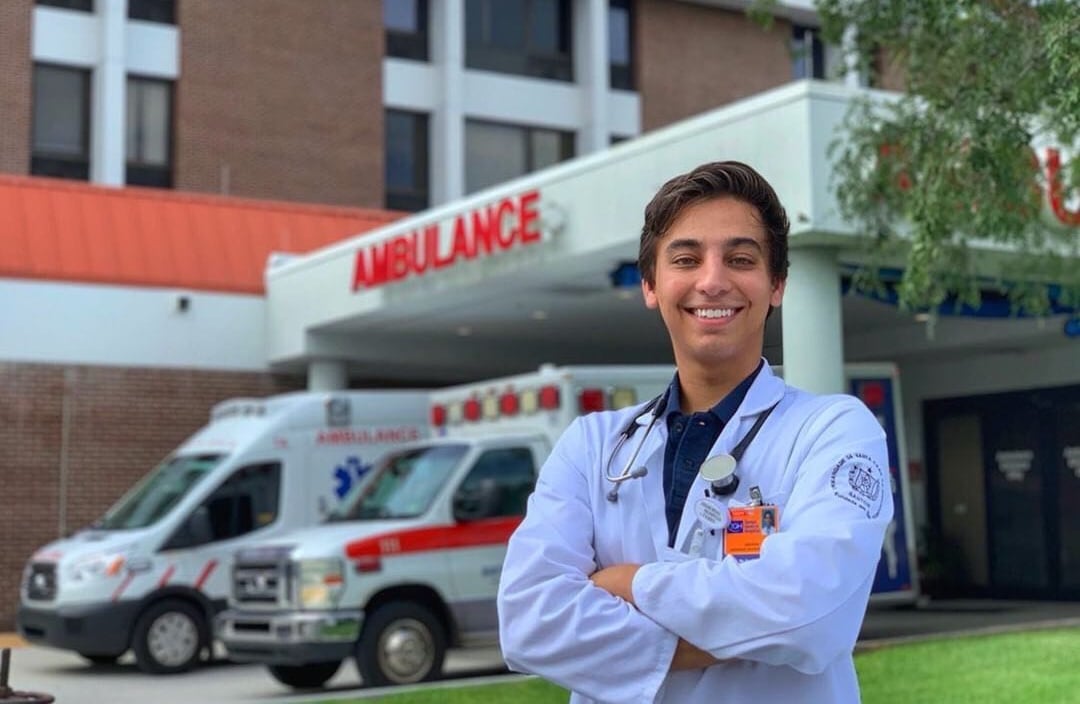 [ad_1]
Dr. Romeen Lavani, chief medical officer at St. Anthony's Hospital in Chicago, was skeptical when AMOpportunities First approached him to bring international medical students to the hospital for clinical training.
Lavani had heard similar arguments from other companies, only to be disappointed with poor communication, unreliable service, and poor school students. But he was impressed by the professionalism and determination displayed by AMOpportunities co-founders Kyle Swinsky, MBA '19, and Ben Bradley, a 2018 JD-MBA from Northwestern University, and persuaded reluctant colleagues to give them a luck.
Over the next nearly four years, St. Anthony welcomed 90 international students through AMOpportunities, more reserved for the months to come, and benefited greatly from the diverse perspectives they brought.
"It wasn't so much that it was a great new idea, but they took an idea that existed and made it better," said Lavani, director of pediatrics and medical education at St. Anthony, a 151-bed hospital located in the Petit Village district. "They are very professional, they are innovative, they approach problems systematically, they are very communicative and the students we have received so far are of the highest quality."
Chicago-based AMOpportunities, Chicago Booth's 2017 winner Edward L. Kaplan, '71, New Venture Challenge, has expanded his list of satisfied clients as he develops the idea that sparked his foundation in a dormitory in the University of Wisconsin-Madison in 2013.
It was originally designed by Swinsky and Bradley, then undergraduates from Wisconsin, as a service to help international medical students obtain clinical training opportunities in the United States by assisting them with visas, housing and d other logistics. Now AMOpportunities is also helping schools and hospitals to increase their training capacity so that they can accommodate more students. And it has extended its services to nursing and dental students.
In addition to nurturing a variety of perspectives that improve patient outcomes, the startup aims to bring talented healthcare professionals to communities that lack them, such as rural areas. Ultimately, he hopes to tackle the looming global physician shortage by relieving the clinical training bottleneck that makes it difficult for U.S. and international medical students to meet degree requirements.
"This is the future," said Swinsky, CEO of AMOpportunites.
"What we are seeing now is that although many schools continue to be built, they cannot control or find the hospital capacity, which would allow them to increase their training opportunities and the availability of enrollments." , did he declare. "AMO builds this capacity through direct partnerships with hospitals that ensure their students have clinical training options that will count towards their graduation requirements."
The world is expected to be short of 18 million healthcare workers by 2030, according to the World Health Organization. COVID-19 offered a first glimpse of what a rush could look like for medical staff, and AMOpportunities saw renewed interest in its services as a result. His April 2021 earnings were nearly 8 times higher than they were a year earlier, Swinsky said.
"Hospitals on the left and on the right are asking us to help because they need more workers," he said. Its hospital clients include OSF Healthcare, UI Health, University of Miami, Georgetown University, Chicago Medical University, and Jackson Park Hospital.
AMOpportunities in April announced the closing of a $ 5.4 million Series A round of funding, co-led by OCA Ventures, based in Chicago, and HealthX Ventures, based in Madison, Wisconsin. The cycle included participation from the University of Chicago, which, through its UChicago Startup Investment Program, invested $ 500,000 in the startup.
The new funding, which brings the company's total increase to $ 6.5 million, will be used to expand the business arm focused on increasing clinical training capacity and targeting markets. adjacent students such as nursing students.
AMOpportunites' business model has evolved to address the "triangle of problems" facing medical education, Swinsky said. He works with schools of health to develop and manage a clinical training program, administers the training program in hospitals and other clinical sites that host students, and helps connect students to internships.
While fees paid by students currently account for most of the company's income – individual four-week rotations cost students $ 1,499 to $ 4,299 – AMOpportunities expects 60% of its income to come from fees paid by schools by 2022. The startup currently has contracts with more than 30 schools.
During this time, AMOpportunities pays each hospital and clinical site an average of $ 36,000 per annual student rotation.
For Lavani in St. Anthony, compensation from the hospital is just one of the benefits of the partnership, albeit an important one. The 125-year-old community hospital, located in a neighborhood of predominantly Mexican immigrants, serves a population that largely benefits from Medicaid or Medicare, or self-pay, with less than 1% commercial insurance. Over 60% of patients are Hispanic and almost 35% are African American.
But the partnership has also been beneficial for the teaching environment of the University Hospital, as various interns share best practices, resources and knowledge from their different corners of the world.
"It's great to have people from different types of backgrounds," Lavani said. "They keep everyone in touch with the latest news, they keep you going. You need to practice evidence-based medicine if you have learners around you.
Through the program, St. Anthony receives a steady pipeline of interns from the University of Guadalajara, Mexico, a godsend for a hospital with a large Spanish-speaking patient population. A few months ago, Lavani remembers, there were very sick children in the pediatric unit, and two young interns got heavily involved in supporting families.
"They made that connection," Lavani said.
St. Anthony has also hosted students from Africa, Saudi Arabia and across Asia, and Lavani has been struck by the individualized attention they receive from AMOApportunities. When a student from Singapore expressed apprehension about joining the program, the founders asked Lavani to phone the student and her father to discuss their concerns.
"They don't treat students like a number or a statistic," Lavani said. "They really care about them."
[ad_2]