Rumors swirl that BYJU may bid to acquire a small e-learning company to gain a foothold in the United States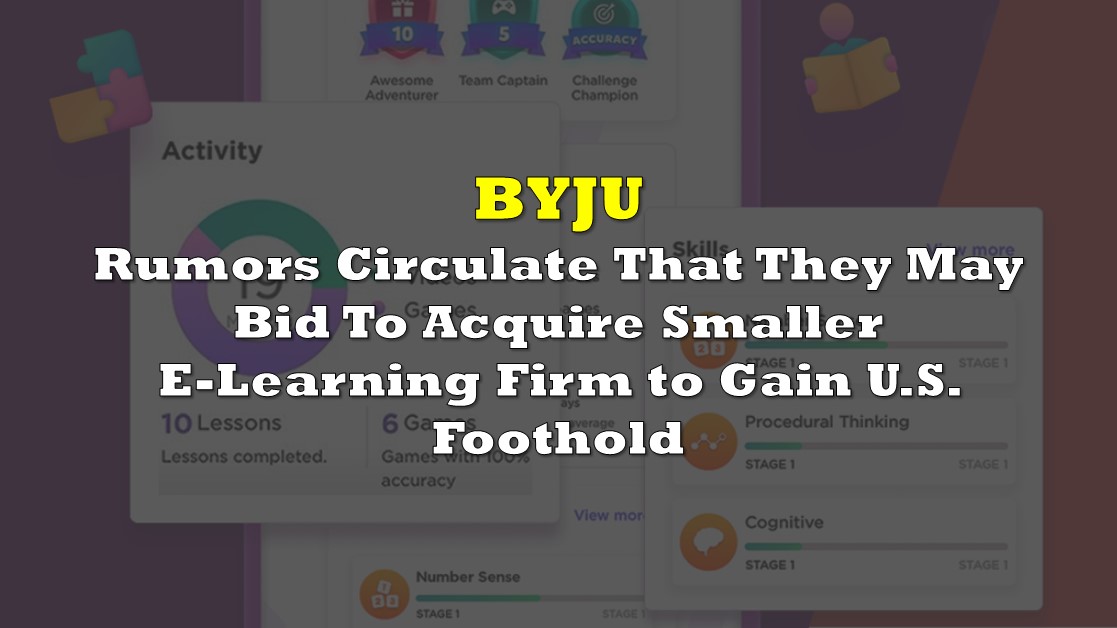 An axiom among stock market investors is that market trading patterns ultimately cause the maximum pain for the maximum number of investors. An example to support this point may be the recent behavior of stocks in the online education sector.
Conventional thinking is that consumers may now view online education and tutoring as one of the most discretionary expenses as inflationary pressures build and the economy begins to slow. Prospective students will either decide not to spend on these services by reviewing monthly spending priorities, or they will try to find additional work to compensate for the rising prices of goods and services. As a result, edtech stocks had to be assiduously avoided.
However, various media, including in India, are reporting that BYJU'S, a private company based in India and recognized as the world leader in e-learning, may make an offer to acquire 2U, Inc. (NASDAQ: TWOU) or maybe Chegg, Inc. (NYSE: CHGG) to expand into the US market. Indeed, a report indicates that BYJU'S made a tender offer of US$15 per share to the board of directors of 2U during the trading week of June 20-24. In addition, some sources indicate that BYJU'S secured debt financing of US$2.4 billion for the operation it chooses.
The surprising aspect of all this speculation is that BYJU'S, which was recently valued at around US$22 billion and has around 7 million paying subscribers, is experiencing a significant drop in demand for its services. It could cut up to 2,500 employees in its legacy operations in India. The reopening of schools and colleges in this country is impacting even the most powerful edtech company.
Shares of 2U, Inc. have soared since the rumors began to circulate, hitting US$12.25 per share at the July 1 close, up 32% in three days. By comparison, Chegg grew only modestly, rising 4% over the same period. Another well-known e-learning company, Coursera, Inc. (NYSE: COUR)decreased by about 1.5% during this period.
Note that these three U.S.-traded online education stocks posted disastrous performances in the first half of 2022. Shares of 2U, Chegg, and Coursera are down 39%, 38%, and 40%, respectively, since the 31 December 2021.
Despite these corrections and challenging fundamentals, all of these stocks continue to trade at fairly robust valuations, not the heavily discounted metrics one would have expected after the steep price declines in the first half of the year.
| | | | |
| --- | --- | --- | --- |
| (in thousands of US dollars, unless otherwise indicated) | Chegg, Inc. | Coursera, Inc. | 2U, Inc. |
| Sotck exchange | NYSE | NYSE | NASDAQ |
| Symbol | CHGG | COURT | OF THEM |
| share price | $19.70 | $14.58 | $12.25 |
| Shares outstanding (millions) | 125.89 | 144.05 | 77.07 |
| Market capitalization | $2,480,033 | $2,100,249 | $944,108 |
| Revenue | $755,000 | $542,000 | $1,070,000 |
| Adjusted EBITDA | $227,500 | ($45,500 – $51,500) | $85,000 |
| Cash | $1,183,162 | $780,419 | $216,620 |
| Debt | $1,691,990 | $18,338 | $1,037,913 |
| Enterprise Value (EV) | $2,988,861 | $1,338,168 | $1,765,401 |
| EV/Revenue | 4.0 | 2.5 | 1.6 |
| Adjusted EV/EBITDA | 13.1 | N/M | 20.8 |
Balance sheet data as of 03/31/22. Projected revenue/cash flow statement from the midpoint of the company's current forecast for the year 2022.
Chegg is still trading at a rich enterprise value adjusted EBITDA to adjusted EBITDA level of around 13x. 2U's cash flow multiple is even higher, at 21x. Coursera expects to post an EBITDA loss of around $50 million this year, so a ratio cannot be calculated.
If BYJU'S makes an offer on any of these stocks, the e-learning group could rally. However, valuations do not appear to support sustained growth.
---
Information for this briefing was found via Edgar and the sources mentioned. The author has no security or affiliation related to the organizations discussed. Not a buy or sell recommendation. Always do additional research and consult a professional before purchasing a title. The author holds no license.